Mobile market trends – digital inclusion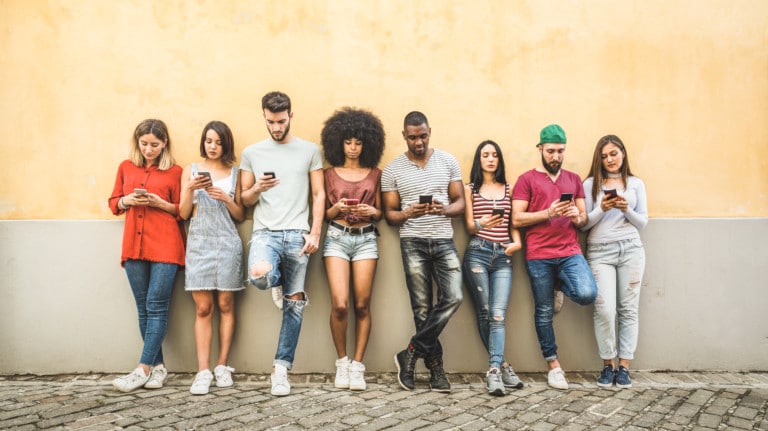 What is data marginalisation?
As digitalisation across the globe gathers pace and services rapidly migrate from the physical to digital, this change has led to data marginalisation. This occurs when there is a disparity between those who can and cannot access technologies to use today's digital services.
This has real impact on individuals and society. Where individuals are not able to access devices, such as smartphones or laptops, or equally where a lack of infrastructure such as internet access is limited and impacting people's prospects.
In these instances, individuals and society are marginalised and unable to participate in the digital world to its full extent, and unable to gain access to services and information. On a wider societal level this can lead to limiting opportunities for those impacted.
Less developed parts of the world are more prone to data marginalisation and we are starting to see it increase and accelerate compared to societies in the West. However, it is not limited to developing areas, but also the developed world and it leads to greater disparities in wellbeing, wealth, and education.
While it is not as widespread in the developed world, it does affect a small percentage of the populace in each country. This has been highlighted by the current global pandemic with those less well off unable to digitally access schooling or education, as they do not have access to technology such as smartphones, laptops or tablets.
As is the case in other regions around the world, individuals and families are unable to access and participate, and this is what lead to data marginalisation. The impact will be felt for years to come.
Why is data key to inclusion growth?
Governments around the world are pursuing digital strategies – services move online, technology is more widely adopted (demographically), accessible and generational changes have led to greater digitisation – data is key to inclusive growth and aids the wider development of economies. A plethora of services are now accessed online only, from banking, schooling, and education to commerce, social and retail, all of which accelerated during the recent pandemic, and will continue to gather pace over the coming year.
Information & data is critical to driving business, employment, health services and education. It is often referred to as the 3rd industrial revolution, but more importantly it is leading the path to the 4th revolution in automation using data to drive smart technologies.
As mentioned earlier, services are now predominantly online. The importance of inclusion comes in more acutely when individuals need to access services but are unable to do so.
Ensuring inclusion for all is key to progress.
The importance of corporate responsibility
At Trustonic our secure cloud platform empowers our partners to provide affordable smartphones by device financing to consumers. This empowers individuals to access the latest mobile technology. 
It is important that our industry is considering the wider implications and seeking ways in which we can help people access technologies and services. This includes making them both financially accessible and ensuring they are not being taken advantage of and exploited.
Meeting demands for mobile device financing
Through our Telecoms Cloud Platform we provide seamless services to our partners, and the one area we are witnessing the greatest demand is for mobile device financing.
Our platform empowers our partners to provide accessible device financing with confidence to consumers and ensures that the latest smartphone technology is affordable to those who would otherwise not have the means to access or otherwise afford one.
We are seeing across the globe from various studies into trends and analysis that are focusing on issues related to disparity in wealth and the lack of affordable devices to ensure societal inclusion around the world. This has also led to a shift in the way in which device manufacturers are approaching the market.
Businesses such as Samsung and Apple, who would traditionally year-on-year increase the pricing of their products and provide the latest technology, are starting to think about what they are doing, and as a consequence of that, we have started to see prices stabilise and or even decrease, ensuring affordable technology is brought to market.
We are witnessing changes in attitudes towards wealth and income and how people consume and access credit. Across the globe in multiple markets, including Brazil, Indonesia, and the UK, financing is the norm, and attitudinal shift generationally is accelerating this trend.
Increases in digital spend
Despite the financial uncertainty, rises in unemployment and with individuals focused on saving money, the digital purse it still deep. Spend on digital services and technology has increased over the last 12 months. This is taking place across multiple socio-economic & demographic groups ranging from high to low incomes and households.
This is especially the case for the telecom's wallet and consumer demand and expectations are continuing to demonstrate a clear desire to purchase devices using affordable finance options in the long-term.
Helping mobile operators grow revenue
Trustonic empowers operators to attract consumers accessing the best smartphone for their needs. Our technology enables a wide demographic to access smartphones through affordable financing, including emerging markets, meaning that our technology fully caters to and meets global expectations and demand.
What we are seeing is increased demand driven by Latin America, Asia and Africa, where those under 25 years old have a greater desire to purchase consumer goods on finance. We see that this demand is leading to consumers requiring access to credit and increasing the amount spent on devices, which in turn, leads to increased spending on digital services in the long-term.
In countries such as India and Indonesia, and Africa to a certain extent, we see a direct correlation between access to devices and digital services that in turn leads to an increase in the income generated by these individuals.
If we talk about places like India, access to a smartphone has certainly allowed people to move into new careers utilising a mobile device & digital service, moving from villages into the larger cities, like Bangalore and Mumbai. In Africa we have seen that access to smartphones and digital services has enabled greater access to banking applications across the board.
These trends are continuing to gain traction and we do not expect to see these fall in trajectory over the coming years. We fully expect that smartphone device financing will become the norm driven by consumer demand. Meaning that mobile operators need to cater to this demand.
We anticipate that this shift towards a platform that provides accessible financing in emerging markets will be where we witness the acceleration of digital inclusion. There are also strong levels of active participation and investment from large tech giants in Africa, Asia and Latin America due to the young population not having access to fixed infrastructure.
This all results in digital inclusion, which in turn will provide greater opportunities for long-term revenue generation for mobile operators, and other services providers. Utilising our solution reduces the risks associated with selling mobile devices on finance, and also protects against other inherent risks and challenges, such as porous supply chains or theft at the point of sale that have long plagued the industry.
Get in touch if you to find out more about how Trustonic's solutions can help.