My volunteer journey: James Mayes, Head of Sales Operations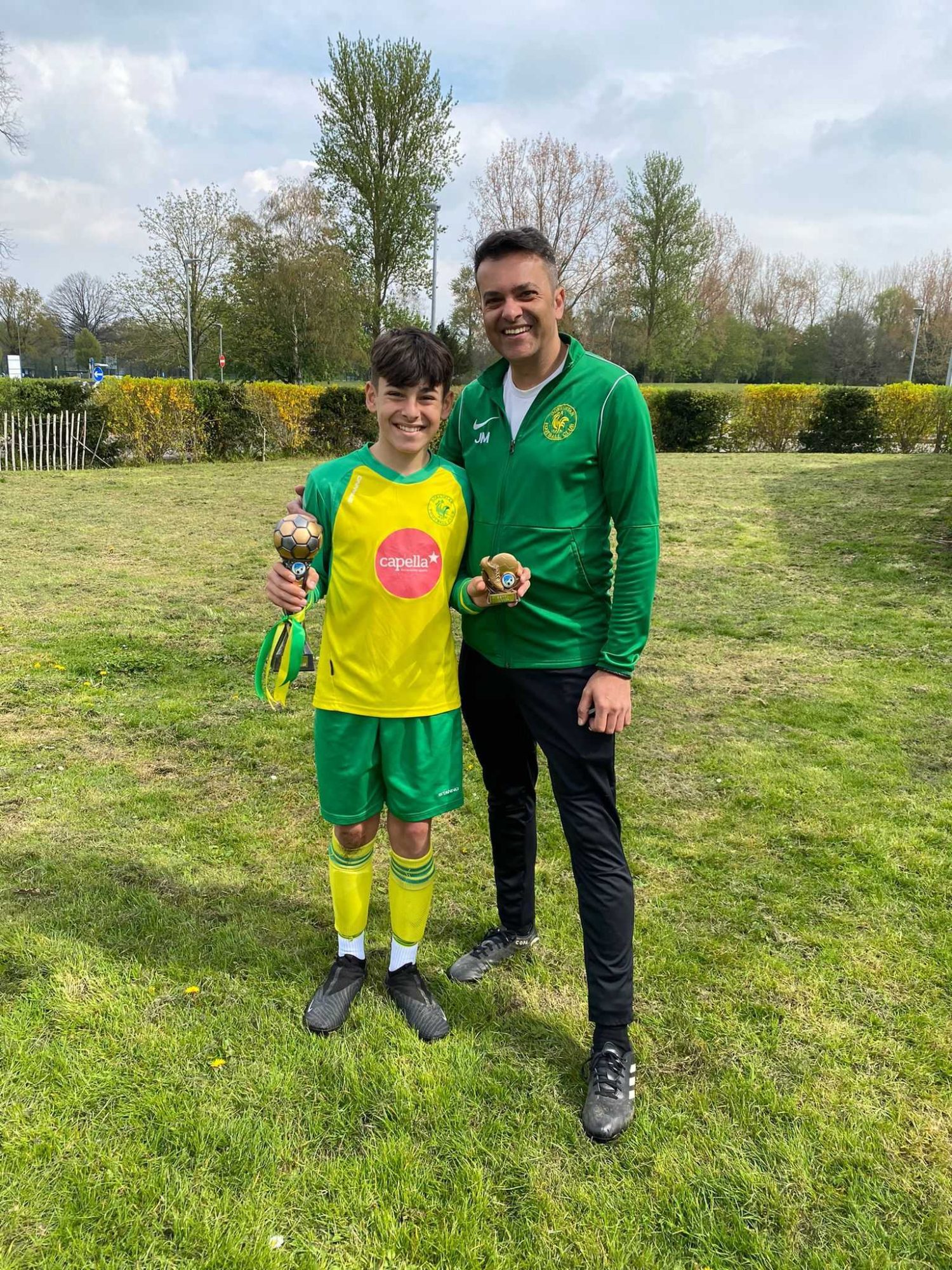 Trustonic is committed to bridging the gap for the next billion and safeguarding the important aspects of people's lives. But as part of our company culture, we actively promote our team members to identify and back a charity or organization that holds personal significance to them.
James Mayes has been Head of Sales Operations at Trustonic since 2020, but outside of work, he volunteers as an Age Group Manager for Dorkinians Football Club.
We sat down with James to discuss his volunteering journey with Dorkinians and its importance, and why more people should volunteer to aid their local organisations.
Why are you supporting Dorkinians Football Club?
Well, it's funny because I stumbled into volunteering accidentally. My son, Tom, who was five at the time – now 14 – wanted to give football a go, so I took him to my local club, Dorkinians, and ended up standing on the sidelines at nine o'clock on a Saturday morning with the other parents. Whilst existing coaches taught the kids, I helped by tidying the cones, moving goals, collecting stray balls, etc. But little did I know, this was my introduction to voluntary work.
Within six months, I was asked to become an Assistant Coach, and for the last six years, I've been the Age Group Manager. This means I oversee two teams with 36 players – 35 boys and one girl – of varying abilities, manage four members of the coaching staff, communicate with leagues, referees, and the Surrey FA, order pieces of kit, and oversee welfare matters. It's safe to say, I absolutely love it!
Dorkinians is a local, family-oriented club with passionate volunteers who do much more than me. We're not an academy, and don't make silly promises to players and parents. Their enjoyment always comes first, and results are secondary. That said, we aim to win, and we've had decent success with winning a cup or trophy in the last three years and always finishing in the top three within the league. I'm still hoping for first place next season!
Success for me, though, is watching the 20 or so kids I've helped since they were in the Under 6s develop into good players and lovely, hard-working kids. That's the buzz I get from volunteering, and awards days are always a real highlight as I look at them, praise them, and think how far they've come and where they're still able to go.
Realistically, we have around two more years until they hit the adult teams, and I plan to hang up my boots then too.
Why is it important to volunteer?
Volunteering is good for your wellbeing and has been for mine. Yes, I'll moan about admin, since there are a lot of FA courses, coaches' meetings, and parent updates to handle. And then there's the player dropouts at nine o'clock on a Friday night when you have a kick off in 12 hours' time, or even having to deal with the opposition's coaches who treat their team like we're in the Premier League.
But we always cope and build a team, which far outweighs the planning stresses. The responsibility to show my match day squad how to behave, the benefits of teamwork and personal ownership, plus the humility to accept our failings and celebrate our successes as a team has given me priceless moments.
All of this makes the whole thing worthwhile, and without volunteers that give up their time for the club and the teams, none of this would come to fruition. Volunteers encourage the players and keep the club running, which is why volunteering is such an important cog in the larger machine that makes up Dorkinians.
What did you learn and/or gain from this experience?
To have the opportunity to impact young minds twice a week positively is something I didn't know I'd enjoy so much. Seeing a player give 100% and know that today they were their best self is a rush that I get goosebumps just thinking about. I've learned much about myself, including trusting the players more, giving less game instruction, and allowing them to make mistakes and learn. But most importantly, I've learned how to provide a safe, warm, and welcoming environment so they can feel protected. After all, they're just kids!
Volunteering with Dorkinians has reignited my love for the game, as 'grassroots' football is a real leveller, and it makes you appreciate the journey and sacrifices top players have made.
What advice can you give to encourage more volunteering?
To summarise, we're all busy, but volunteering gives me a tremendous sense of wellbeing and gives me more quality time with my son and daughter. So, if you're concerned about losing time at home, why not make it a family investment and choose something you can all enjoy? That's certainly how it's turned out for me and mine.
I feel completely supported by Trustonic. For example, it's never been questioned that I disappear at ten past five on a Wednesday because we start training at five thirty. Our company culture is a huge benefit that allows me to give back to others, letting me give more of my best self to the business.
So, as well as advice to people, I suppose I have advice for companies too. Support your team members on their volunteering endeavours, because if you're allowing them an opportunity to give back to an organisation or effort that's important to them, they'll be more inclined to give back to you, and it'll certainly show in their work.