Latest insights in Telecoms: Why there's no room for complacency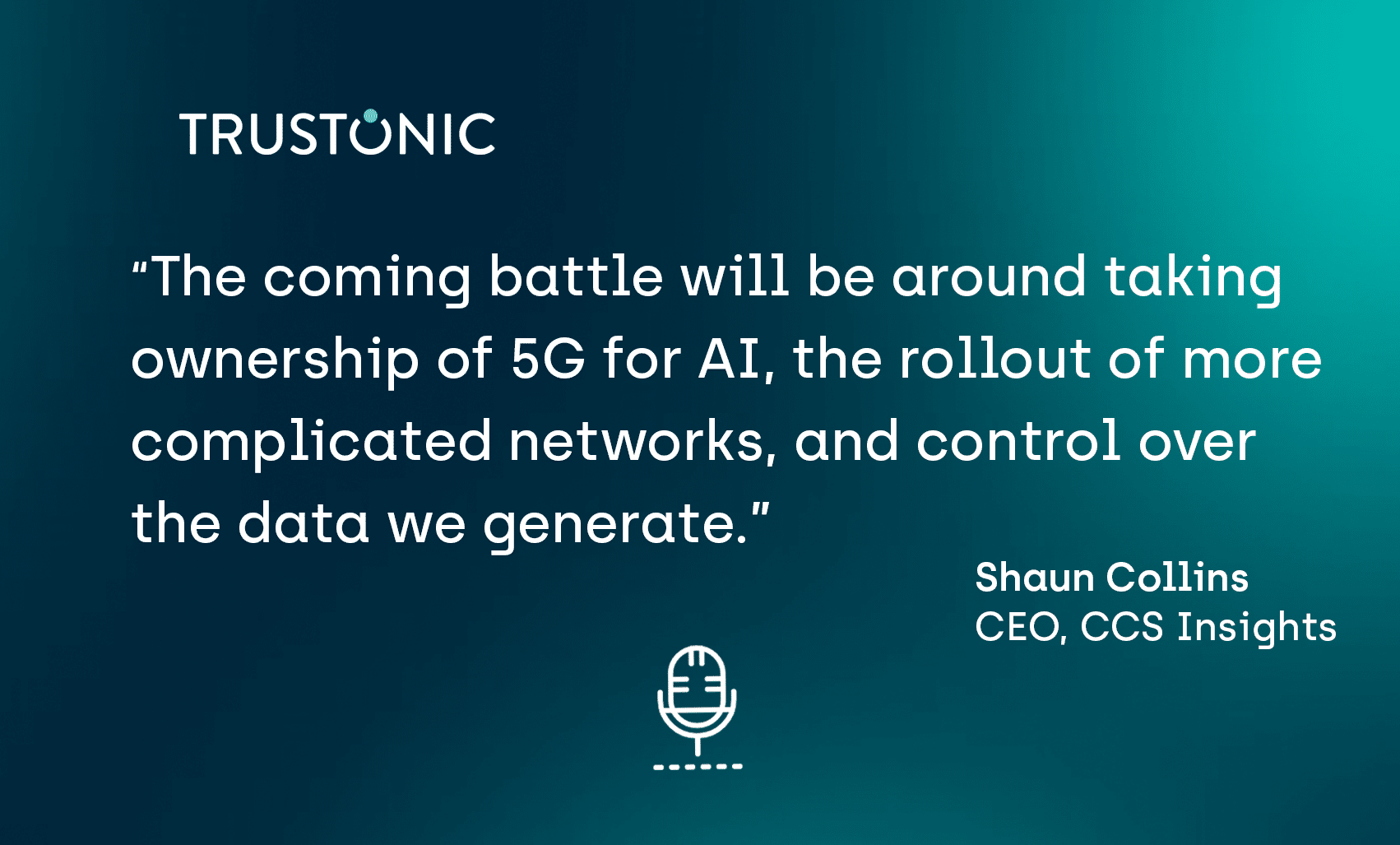 Trustonic's recent podcast with CCS Insight discusses trends in the telecommunications industry and predicts what the future landscape may look like.
Trustonic's CEO Dion Price met recently with CCS Insight's CEO, Shaun Collins, and Chief of Research, Ben Wood, to discuss trends within the telecoms industry. CCS Insight provides market information, analysis and intelligence for companies operating in the connected world.
Founded in 1993, CCS Insight has a wealth of experience in the telecoms sector. Over the years, they've witnessed enormous changes in this industry, including the rise and fall of titans and the emergence of key new players. Consider, for example, Nokia's unimaginable market share of over 40% in the early part of 2000. Slowly, however, others began to chip away at this, and in 2011 Samsung became the largest manufacturer. In 2007, Apple's iPhone disrupted the market and, although no longer number one in volume, Apple continue to extract a disproportionate amount in terms of profitability. In recent years, we've seen the ascendancy of Chinese manufacturers such as Huawei. What history shows is, in the competitive and fast-moving telecoms industry, there's no room for complacency.
Technological developments in the network and software layers have had a profound effect on the industry. The emergence of 3G and 4G connectivity has enabled the computing ability of smartphones to be fully realised. As a result, software and the wider app ecology has become a significant part of the mobile industry. The advent of Android has also been transformative, withAndroid now having an 85% market share of the global smartphone market.
"The market has changed fundamentally from the early days of a voice interaction with a mobile phone … to a very visual interaction with the phone we see today". Ben Wood, Chief of Research at CCS Insight
Software has also transformed the networks far beyond their basic purpose of providing best coverage in most places for most people. With the emergence of 5G, we're seeing the collision of computing at the edge of the network.
Wood believes that it's unlikely we'll see a meaningful rival to Android and iOS in the next three to five years. Because of the geopolitical landscape between the US and China, the industry is at a crossroads with telecoms and technology in the middle of this. Consider, for example, the effect that US sanctions have had upon Huawei's attempts to take the top slot from Samsung. However, as an unintended consequence, we may see the Chinese manufacturers banding together long-term to develop a rival platform to Android. In future, this may mean that to launch a product or service in China ─ the biggest, fastest growing market in the world ─ you'd need a Harmony OS version of your app and compliant hardware.
"The coming battle will be around taking ownership of 5G for AI, therollout of more complicated networks, and control over the data we generate" Shaun Collins, CEO of CCS Insight
Given the increasing costs of running, deploying and building out the new 5G networks, it will be a challenge for operators to increase revenue from their existing customer base, particularly in heavily regulated markets. Long-term, this revenue is unlikely to come from the subsidized handset market. Although it's been an effective business model in the past, the rising cost of handsets at scale meansthat operators have to subsidize these at scale then recoup this investment. Operators are thereforelooking at alternatives to the handset subsidy market, such as the instalment plans emerging in the UK market.
One of the most common questions CCS Insight is asked concerns the application of 5G and the value that it brings. Wood believes that the three pillars of speed, capacity and latency will play an important role, with latency becoming a future factor in the evolving 5G networks.
Although there's a general downward trend in the price of 5G handsets, there's also an increase inthe number of expensive flagship devices over US $1000. This is partly due to the value that peopleplace on their smartphones because of the importance of them to their daily lives.
The second-hand value of devices is also important in the trade-in market. CCS Insight's research shows that people tend to hold onto their devices longer, with the expectation of a trade-in value. Inthe developing markets of Latin America, Africa, and some parts of Asia, there's a market for high quality second-hand devices, which is enabling the smartphone environment to emerge earlier than it may otherwise have done.
Insights from the pandemic
During the pandemic, the pace of change across the industry has been astonishing. Many operators reacted quickly to help customers continue to access vital digital services. For example, some operators gave healthcare workers free data, key workers access to bigger data bundles, andprovided customers with flexibility around the length and cost of monthly contracts. Technologysuch as Trustonic's Telecoms Platform enables network operators to respond quickly and take more flexible and pragmatic approaches.
Institutions "have gone through two years' worth of digital transformation in two months," Satya Nadella, CEO of Microsoft
Delinquency continues to be a major challenge for operators, and this occurred at alarming levels at the beginning of the pandemic with some carriers reporting double-digit jumps in their delinquency rates overnight. Ronan Dunne, executive vice president and CEO of Verizon Consumer Group, reported they'd allocated an additional quarter of a billion dollars on revenues of 6 billion in anticipation of the impact of the pandemic.
According to CCS Insight, "we expect a small overall drop in total connections for 2020. Covid-19 is mainly to blame for this; the pandemic has already hit the consumer prepaid market hard and is expected to lower enterprise connections slightly as some businesses are sadly forced to close or scale back amid the recession. However, we expect both segments to bounce back relatively quickly as economic conditions improve".
CCS Insight also expect a rise in "pandemic tech" which are the adaptions to devices resulting fromCovid-19. This includes changes to the physical design to make it easier to clean products, or to addantimicrobial coatings.
The future landscape
In terms of exciting developments in the next few years, CCS Insight believe that 5G technology willdetermine the journey for the next decade. Ground-breaking, disruptive 5G applications will emerge in the coming years, with the possibilities limited only by our imaginations.
Also developing, will be the industry, forming around the edge of the network to deliver, for example, autonomous driving at scale across entire cities. Only with enhanced computing technology at the edge of the network will this be possible. CCS Insight expect to see large organisations come together to deliver this compute technology, such as Google, Amazon, Intel and Qualcomm, together with the operators and, more importantly, the individuals and the companies who will decide what those functions, applications and services will look like.
For more information about how Trustonic's Telecoms Platform can help you increase revenue in the telecoms market without incurring additional risk, and reduce losses resulting from fraud and theft, see.