Samsung and Trustonic: insights and trends in mobile devices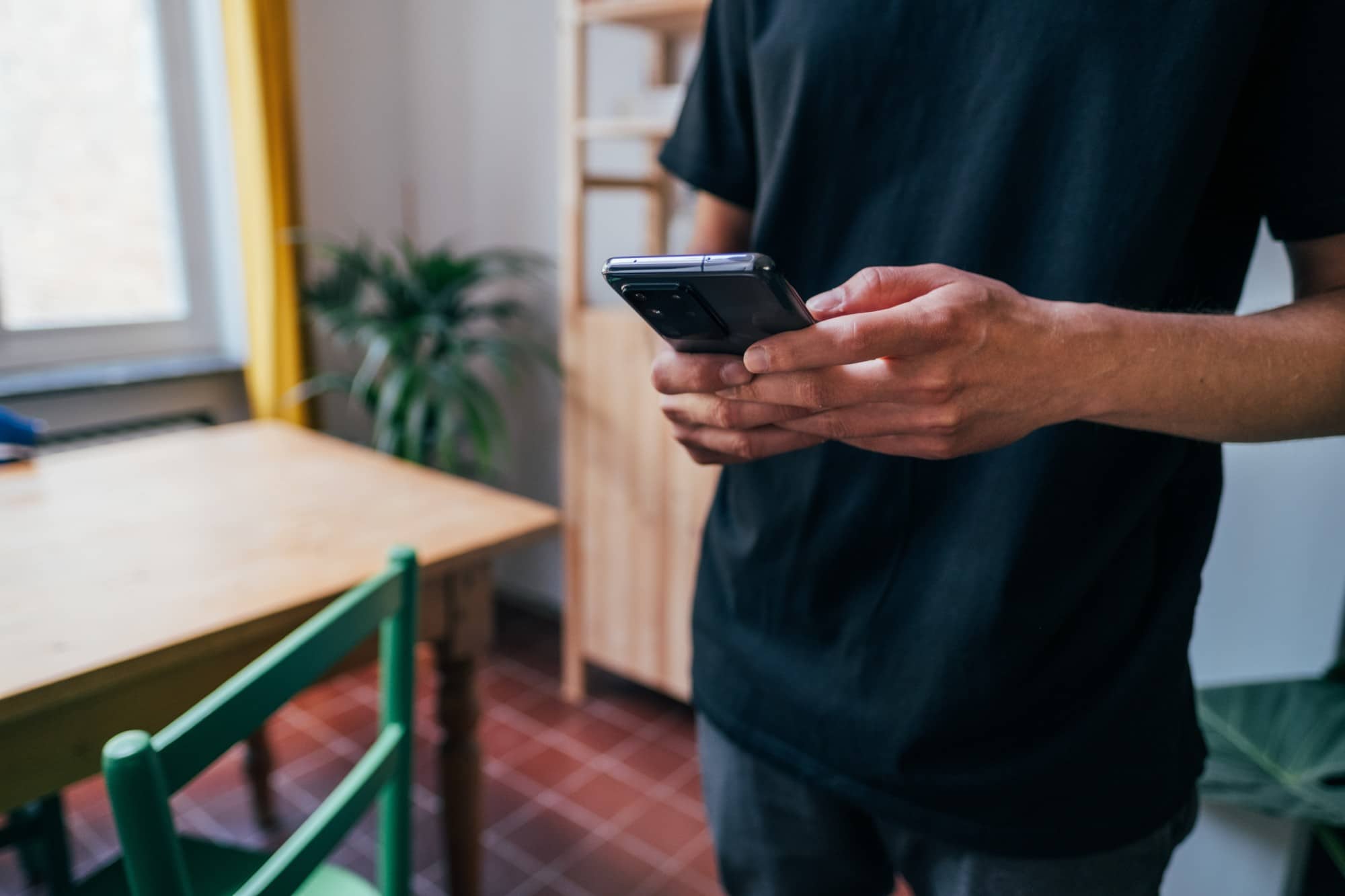 Trustonic's Gregory Wade, SVP Strategic Partnerships & Asia Pacific, met with Nick Dawson, Director and Global Head of B2B Solutions Sales at Samsung Electronics, to discuss global mobile device trends, the importance of strategic partnerships, geopolitical challenges, and market opportunities. Listen in to their conversation here on our 3rd Inside Track Episode.
Global trends in mobile devices
Bringing a better customer-centric experience (CX) to the device is a trend that emerged several years ago. This experience can extend across different environments, including providing customers with the ability to plug a phone into a monitor and have a full desktop experience. The industry has made great improvements in CX and this is continuing to evolve.
Another trend is the appearance of "new form factors". This is not simply about phones that come in different shapes, fold up or have foldable screens, but devices that look nothing like phones.
"The reality is we could make a mobile phone in the shape of a belt buckle or a shoe … the concept of the form factor can be anything, and we're going to see a lot more innovative form factors of how we interact with the mobile world". Nick Dawson, Samsung
Geopolitical challenges
Samsung's headquarters is in South Korea, but it's a global company, with R&D centres and over 360,000 employees around the world. Therefore, any shift in the global political or economic climate impacts Samsung, regardless of where it is. Samsung have moved to the forefront of innovation and are now number one in the world in terms of patents. This is not just for their own products, but also the components they sell to other equipment manufacturers.
Although the trade situation between the US and China has not had a major impact on Samsung, it is affecting global supply chains and innovation cycles. This is also causing concern amongst governments and enterprises, particularly those handling sensitive information, about the security and provenance of the technology. Customers are asking, "Where is the data that I'm sending and transacting in a mobile space going? Where is the cloud? Where are the networks? Where was my equipment manufactured and who had access to it? What is the delivery chain? Has it been tampered with?".
"We're seeing a technology stream and an internet path that's diverging from the rest of the world as (China) build their own systems". Nick Dawson, Samsung
Strategic partnerships
Samsung do what they do really well, and part of this success comes from recognizing when they need to partner with specialists. Samsung believe in open systems, open standards, and collaboration. This is one of the reasons why they partner with Google and use the Android operating system on their mobile devices. However, Samsung also recognise that to do this securely, they have to partner with specialists such as Trustonic.
Security is paramount and that's why Samsung's Knox platform is embedded in devices during manufacturing in their own facilities. The Knox platform addresses security while also offering flexibility and the ability to tailor devices for bespoke purposes. Samsung will partner with large and small enterprises globally to make products more secure or flexible, or to provide added value.
Take for example what Gartner term the "mobile defence threat". Instead of building their own platform to guarantee the integrity of the device ─ the endpoint ─ and proactively protect it, Samsung decided to partner with specialists in this area. It's not always obvious to consumers that they're interacting with a Samsung device; for example, a car's dashboard screen and the system that drives this, or an aviation in-flight entertainment system. To provide tailored, customised solutions, Samsung partner with specialist software solution providers and system integrators.
Samsung want to hear from companies that have a product that would bring value to them, or that offers something different. On the enterprise or B2B side, to contact Samsung, simply visit the partners area at: Samsungknox.com.
Samsung and Trustonic's partnership
The strategic partnership between Samsung and Trustonic has benefited both companies and our mutual customers, particularly our finance and operator partners. The ability to grow across platforms is one of the areas where it's absolutely critical for Samsung to have partners.
In terms of mobile threat defence, Trustonic are specialists in cybersecurity and bring something that's different and unique. Samsung and Trustonic have worked together to combine our visions to provide a solution that benefits our customers and works across any platform. The feedback that Samsung has got from various markets globally has been astoundingly positive.
"(Trustonic) specialize in creating things that are different and unique and together (we) bring those two … visions together …to provide your solution working ubiquitously across any platform". Nick Dawson, Samsung
Markets and the possibilities ahead
In Asia-Pac, the enterprise B2B space is maturing and not just from a technology perspective. Part of this involves a fundamental shift in policymaking and how business is conducted. Not only is Asia-Pac a massive market, but they are the thought leaders and, when it comes to the use of technology, they're light years ahead of Europe and North America.
Since China has been frozen out of the geopolitical scene, we're seeing a technology stream and an internet path that's diverging from the rest of the world as they build their own systems. In the West we think about the corporate giants as Amazon but, compared to the Chinese giants, Amazon doesn't even make a top 10 list.
Another potential market is in Europe where, post-Covid, we expect to see massive investment in large digital infrastructure projects.
Another interesting market is in the rugged space. This is about building devices for the environments in which they're used, whether that's at plus or minus 70 degrees Celsius or three meters underwater. There are considerable business possibilities in the rugged space and it is evolving quickly.
Accessing high-end devices
Samsung like to give customers access to high-end devices and the experiences these offer. However, although Samsung sell globally in almost every market in the world, they don't always offer every single model in every market. There are also challenges in emerging markets where affordability is an issue, although Samsung do build devices at the lower end of the price scale. To be able to offer high-end devices in some markets, you have to provide finance. However, this leaves you vulnerable to theft and fraud, and these devices can end up on the black and grey markets.
Trustonic's solution offers asset protection to mitigate this. The solution is unobtrusive and most customers will be unaware that Trustonic's Telecoms Platform is on their device. However, should the customer stop paying for their device, the platform enables the network operator to restrict features remotely or lock the device until payment is made. Again, this is an example of why strategic partnerships are important.
"It's working well for everybody … because our mutual partners are able to get people up the value chain on the … device level, (and ) the customers are happy because they can finally get … the Ferrari of phones".. Nick Dawson, Samsung
Automotive and 5G
The emergence of 5G delivers incredible speed and capacity on the network. However, the real game changer is that 5G removes delays on the network, known as latency. Latency has been the missing ingredient in the internet of things (IOT) because IOT depends on the ability to communicate in real time, device to device. By removing latency on the network, this opens all sorts of possibilities. One example is in automotive and smart city grids where vehicles can interact with other vehicles. The infrastructure and sensors that allow this must be able to communicate with one another in real time, and 5G enables this.
"(5G) is not just on the horizon, it's happening now". Nick Dawson, Samsung
A few years ago, Gartner's study predicted that we'd be in a world with about 25 billion connected endpoints. We're almost there: it's in your phone, your laptop, your TV, even your Samsung fridge.
However, having all these connected endpoints means we will produce more data than we humans can deal with and this, in turn, will lead to the rise of artificial intelligence (AI). AI will benefit us because it will be able to detect anomalies and deviations and provide contextual awareness about environments. This information can then be fed into other systems, invoke an action or notify humans. The rise of AI algorithms to help us manage this new world will be incredibly important.
In terms of security, all connected endpoints will need to be protected, regardless of whether they're in a phone, a laptop or the sensor beneath the hood of your car. Sensors are a gateway to everything else on the network and must therefore be protected. You need to know where the sensor was built and who had access to it because if a sensor is compromised and false data infects your smart city grid, this can have catastrophic downstream repercussions. So, safety and security are at the core of this too.
—
At Trustonic our Telecoms Platform helps mobile operators manage the smartphone lifecycle. Through device financing, we can help mobile operators to improve smartphone affordability. Allowing mobile operators to attract more customers, grow revenues and improve access to digital services – all without increasing commercial risks associated with missed payments and bad debt. Find out how we work with Mobile Operators here or get in touch below.