How can cell phones help bridge the digital divide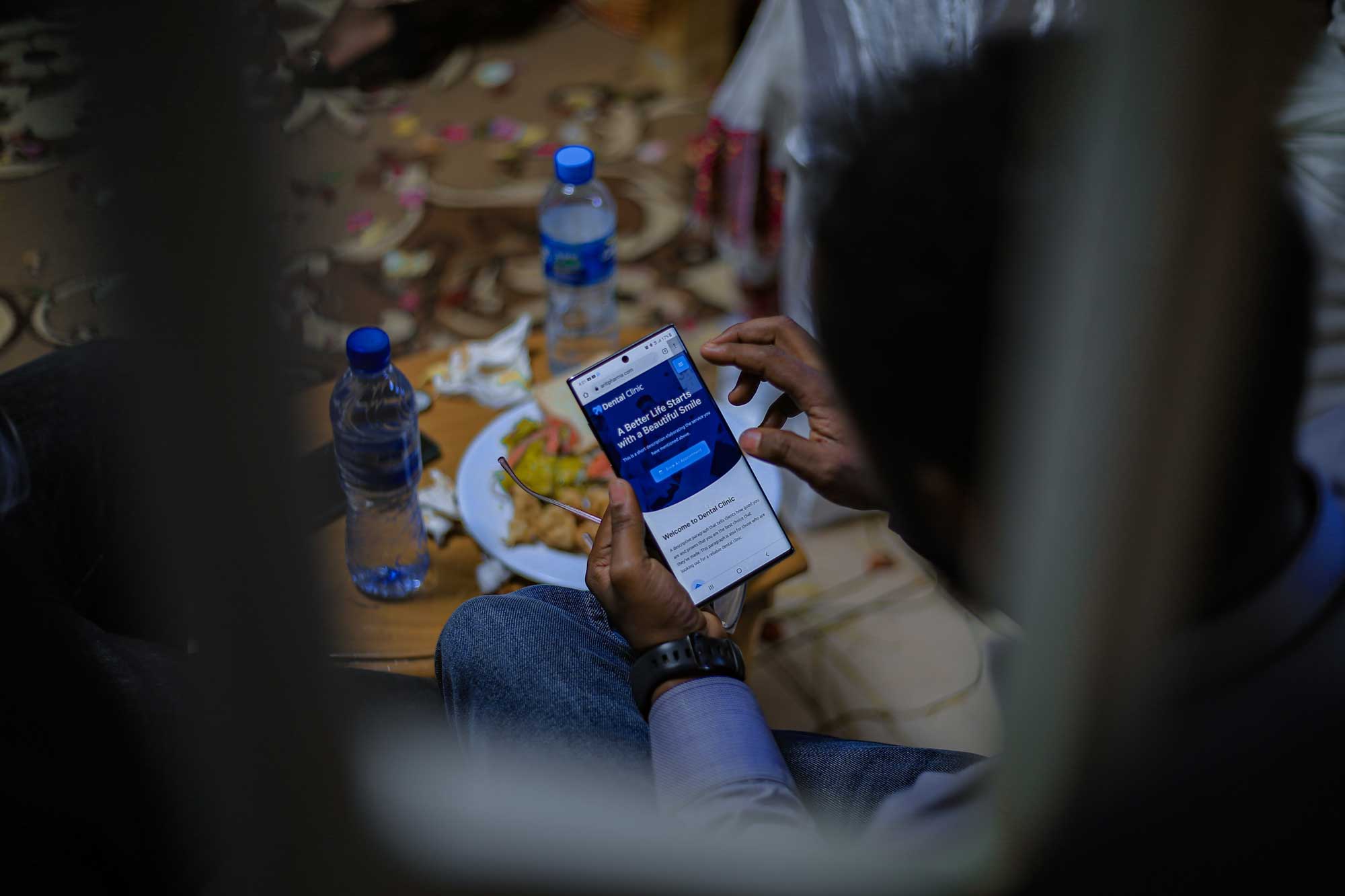 What is the digital divide?
The "digital divide" refers to the gap between those able to benefit from new technologies, and those who can't – typically due to social or economic reasons. Whilst there are disadvantaged elements in all societies, the problems and opportunities in more developed countries compared to less developed countries are very different.
Within relatively richer countries, new technology is increasingly replacing existing infrastructure. Mobile phones, for example, have replaced landlines, and e-banking has replaced physical, in branch banking.
Within these more developed economies, there are many who fail to benefit from these advances – the elderly, disabled and the less well off, will continue to disproportionately rely on services that become expensive to maintain, once the rest of the population moves to digital versions. Serving their needs raises questions of public policy and whilst technology can help, it is unlikely to be the primary answer.
In low to middle income countries, the digital divide is seen more between countries and communities than between individuals. Here, however, technology and can play a bigger part.
Digital First
Technology, and in particular connectivity in developing nations is often providing net-new capability. Mobile phone signals were provided to many areas never served by landlines, and now we see increasing roll out of 5G to areas that have entirely skipped 3G or 4G. This is driven by the relative low cost of the infrastructure for these technologies, compared to their precursors, and by the transformational impact they can have if properly deployed.
By providing widespread access to digital services, the hope is that the communities can be lifted from poverty. The GSMA recently published a policy document in accelerating internet adoption and this contains many interesting insights into the changing shape of the problem.
In particular, ten years ago the primary problem was one of global coverage – 44% of the global population had no access to mobile broadband, but by 2019 this had reduced to 7%. Unfortunately, this didn't lead to mass adoption. 44% of those with mobile broadband still did not use it.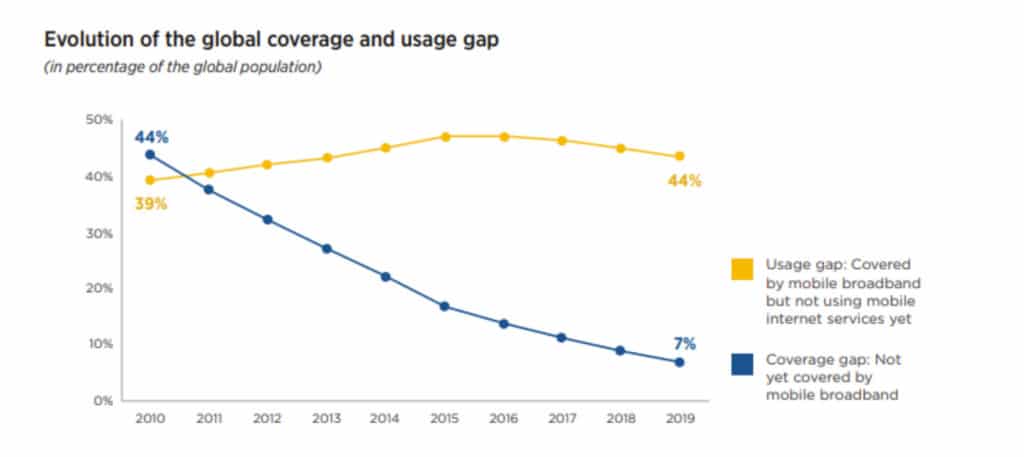 4 billion people are still excluded from the benefits of the mobile internet despite 3.4 billion being covered by a mobile broadband network [Source: GSMA policy report]
If we can close the digital divide – then what?
In developed markets, we often think of 5G as better video streaming; more social networking and, perhaps, connected cars. This may be the forefront of technology, but 5G rollout to rural nations is not about any of this.
In rural communities in developing countries, there is little access to medicine or health advice; often limited access to information or education and scant opportunity to grow economically. Enabling citizens to use the internet can help solve many of these problems. In some of the worlds' poorest communities, even giving a village a single phone in the hands of a community leader can enable significantly better access to services – including health and vaccination tracking. This single cell phone can be used to fight cancer and can enable broader access.
A single cell phone for a community can deliver huge benefits for digital inclusion, but to go further, individuals need their own devices. Providing children access to internet resources can enable broader education both helping the students themselves, and allowing them to pass on knowledge and access to families. Enabling families to feel more connected, including to connect to remote government, potentially increases voter engagement.
Perhaps the biggest impact though is on jobs. A cell phone and an internet connection can enable a sole trader to connect with customers, or a worker to find an employer. Anything that enables the first step on the ladder for the those most in need, can reap huge rewards for countries willing to invest.
Masts are not enough
One of the challenges with combating the digital divide is that individual end users need devices. Even in programmes where a single cell phone is given to a community, this has challenges. A phone is an item of value, and as such has the increased potential to be sold, stolen, or bartered. When programmes are expanded to individuals, the cost of providing devices for to everyone can rapidly become unrealistic.
Technological solutions can help here. Devices can be restricted to reduce their value for other purposes – such as geo-fencing or network locking to prevent resale or theft. Such control can enable governments or operators to subsidize new devices without fear of wholesale theft for export.
As an example, in some regions, carriers wish to replace aging 2G infrastructure with 4G or 5G to enable the same bandwidth to stretch further. This makes a lot of sense, but means that existing users with older phones need to be offered an affordable upgrade path. Heavy discounts on replacement devices can work – but this approach is not without its commercial risk, and is open to criminal activity who will see the opportunity to sell devices on the grey market. Solutions such as our Telecoms Platform can avoid this problem by ensuring device cannot be repurposed in this way.
Helping individuals to reach their potential.
Solutions such as per-community phones and "one laptop per child" style education programs can help individuals enormously – but this is far from the only area where help is needed. Many individuals move to cities to find work, and without connectivity are at an extreme disadvantage. Here solutions such as device financing can enable individuals to buy their first phone and provide a route to subsequent purchases as they leverage that new connectivity to find work or build a business. Technical solutions such as our Device Financing can reduce the risk to the lender, and therefore enable a far broader community to be served. At its simplest, our Device Financing will remind a user when a payment is due, and disable the device if this payment is not made – significantly reducing the risk of non-payment, or of the device being stolen or bartered.
The GSMA reports that phones are still out of reach for many, and advocates multiple solutions to address this, including tax breaks and financing.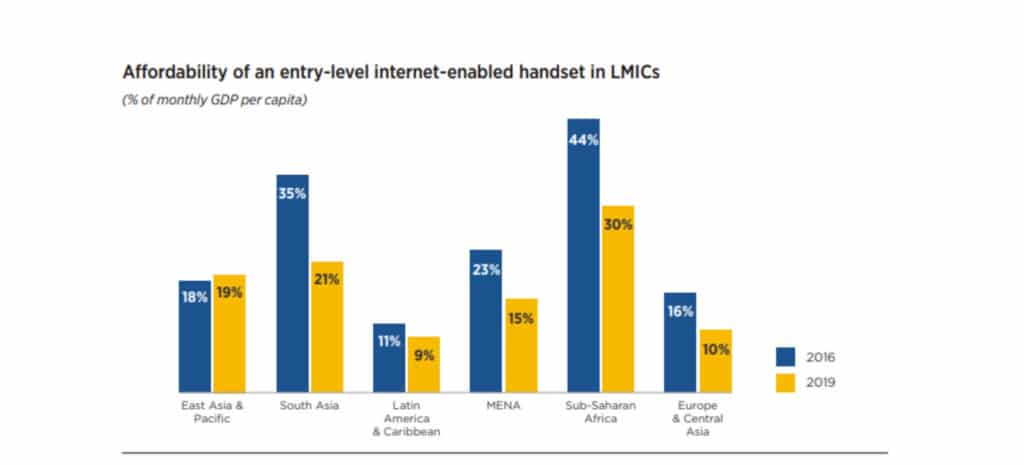 Ethical Financing
Financing solutions can enable individuals to obtain goods and services that they would otherwise be excluded from, which can significantly reduce the digital divide – however being cognisant of ethical standards is key. As smartphones become ever more part of our personal lives, there is a risk that some would hold our data and our very identity in hock. We recognize the need to balance giving appropriate controls to the device financer, and giving the consumer confidence that their data or identity will not be held to ransom. At Trustonic, we are careful to ensure that financing is limited to the device – an end-user can always access and offload their data and photos, even if in dispute with the device financer. Maintaining this balance is critical to ensure end-user confidence and willingness to enter into financing agreements.
Summary
There is no simple silver bullet to remove inequality – however when it comes to the digital divide there is much that can be done. In the last 10 years, global internet coverage has increased massively. Today the key problems are to enable those with internet coverage to gain access to internet services. The good news is that this can bring benefits for all. The commercial opportunities of 4 billion new subscribers should not be lost of network operators or handset vendors, and long running basic access programs, such as those run by Grameen have shown commercial as well as societal success.
The GSMA recognizes 5 key areas where improvements are needed.
Affordability
Knowledge and Digital Skills
Relevance
Safety and Security
Access
Network operators, with help from technology partners we are in a strong position to address many of these areas.