Acceleration of smartphone accessibility with new Android 11 features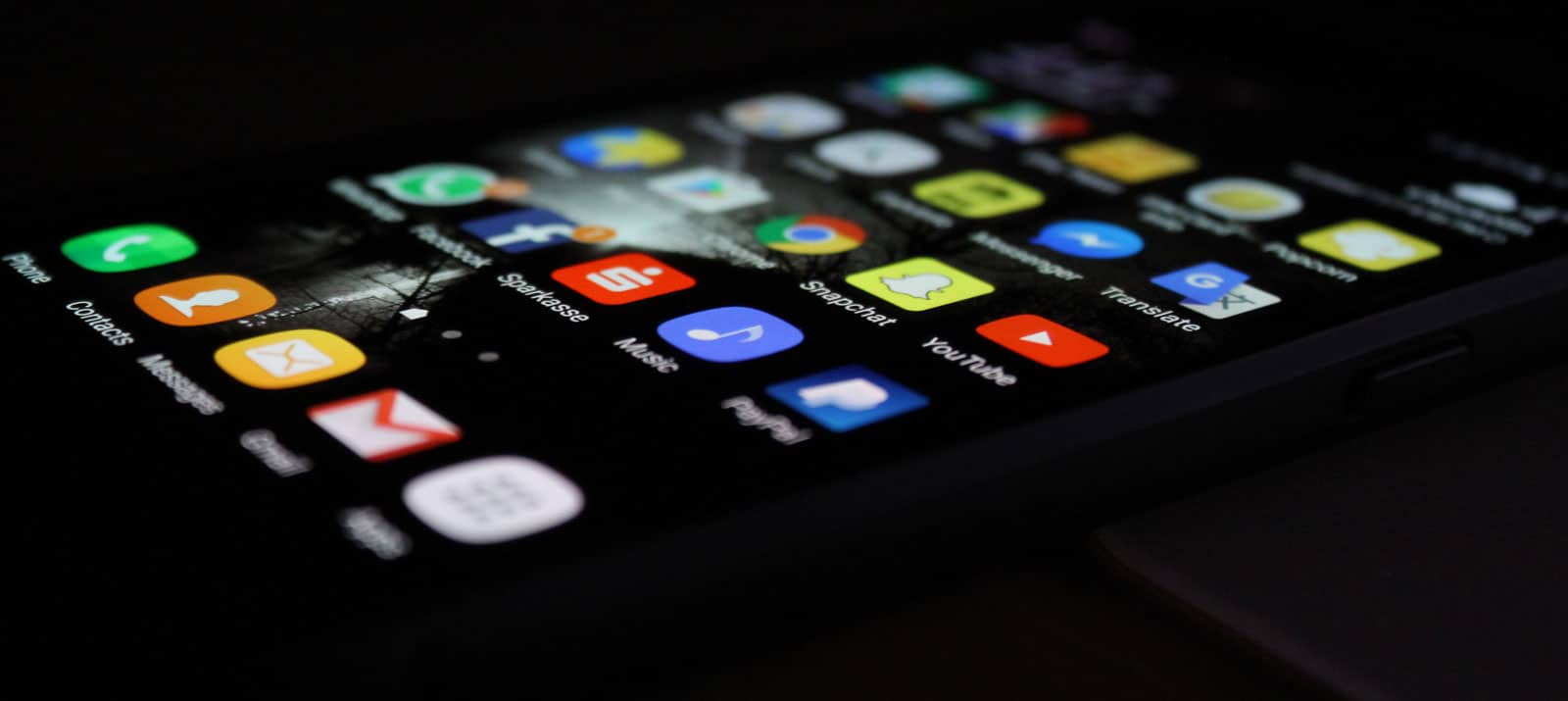 For developed countries, the smartphone has been embedded into our everyday lives.
The smartphone in its current form started with the revolution in 2007, when Apple's Steve Jobs introduced the first iPhone, followed shortly by Google's Android smartphone platform. This was the inflection point.
The mass adoption of smartphones started as well as exponential growth of the internet. The smartphone gave the everyday person an easy to use but essential piece of technology. Today, the smartphone is so important to those who have it, that it is hard to imagine our personal and professional lives without it.
What would your life be like without a smartphone? How would you conduct business? How would you communicate with others, or learn?
This is the reality for more than half of the global population. According to bankmycell , 62.07% of the population own a mobile phone and 48.33% own a smartphone. India is the 2nd largest nation with a population of 1.37B people. The smartphone adoption rate is ~24%, per Pew Research Center.
It is known that India will become an economic powerhouse with a rapidly evolving middle class. According to research from Consultancy.asia:
"…Urbanisation is also set to continue. By 2030, the rural population is projected to decrease further, to 44%, with developed rural only growing by 1% in the period. Urban development is projected to hit around 40% by 2030.
The ongoing urbanisation and rising incomes will lead to further consumer shifts. With considerable changes to income distribution across India, growth in the middle class segment is expected to see around $2 trillion in incremental spending on affordable mid-priced offerings, while a further $2 trillion will be shifted to more premium product lines as consumers trade up."
This means that for the smartphone industry there are more available consumers ready to purchase a smartphone in a rapidly evolving economy. Yet the cost of a capable smartphone can still be out of reach.
If you are operating a business or accessing education, not having access to a smartphone creates a real challenge and can be a disadvantage. Smartphone costs have traditionally been too expensive for those who could really benefit from the technology.
In India, on average, a person has to work ~63 days to purchase a smartphone, according to a4i.org.
What if this barrier was removed and the person can easily finance this device over a 24 to 36 month period?
Mobile device financing allows a person to comfortably purchase a critical piece of technology.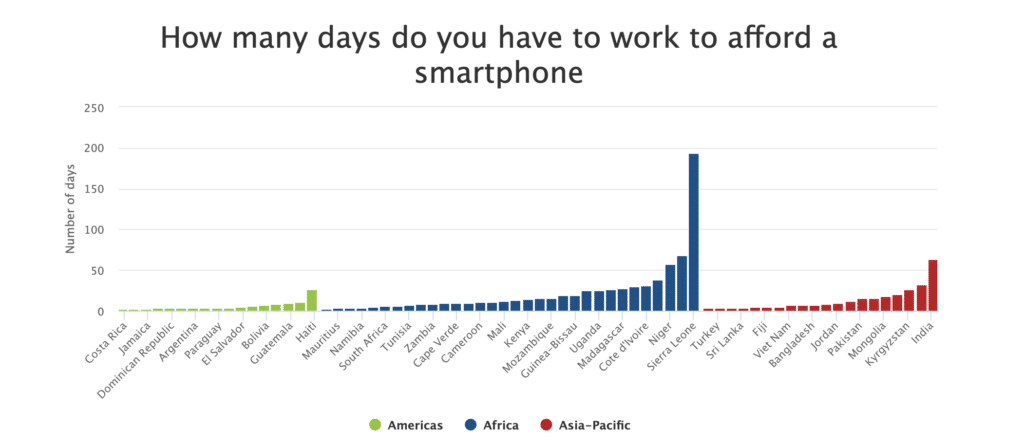 For the person who owns a business, having access to a smartphone can mean the difference between success and failure or the pathway to higher profits.
For example, a well-known study by the World Economic Forum documented the spread of mobile phones in the Indian state of Kerala. This study showed how smartphones enabled fishermen to arbitrage price differences across local markets, increasing their profits by 8% on average as a result.
Kenya's ubiquitous mobile banking service M-Pesa appears to have enabled low-income workers, especially women, to move out of subsistence agriculture into non-farm businesses. This provides a significant jump up the income ladder.
In another business scenario, the smartphone can be a competitive advantage.
Imagine if you are a driver in the streets of a busy city, having a Google Maps application is an absolute necessity. Locals might be able to navigate the driver to a location verbally. Tourists, with often only an address, will seek out drivers that have a mapping application in their vehicle, as a way to guarantee they will get to their location, safety, and making sure the fare is accurate.
Having a smartphone is an investment that pays off.
For personal or non-business users, it can be debated on whether a smartphone is required in our daily lives and often means something different to each individual. However, one fact about owning a smartphone remains clear.
Access to a smartphone and the internet means having access to opportunity that may otherwise not be present or one that is very hard to obtain.
The world's information on health, medicine, education, and other important aspects of life are captured on the internet. Instead of buying a stack of encyclopaedias for learning, a person in global location has free access to the same information instantaneously.
Basic medical information that some markets take for granted, can be lifesaving information for those in developing countries. This list of benefits goes on.
There are still large numbers of the population who don't have access to smartphones today. The global population today is 7.86B people.
According to bankmycell:
14.28% cannot physically own a phone because there is no electrical power in their communities.
48.33% own a smart phone.
62.07% own a mobile phone.
The addressable market in device financing for the underserved population falls in these categories:
Mobile to smartphone upgrade. The opportunity is ~1B devices.
Owning a smartphone for the first time is 23.65% of the population or 1.86B devices.
Android 11 empowers enterprises with a device lock controller
Google has made great strides in Android 11 in helping to address these societal issues we face today.
From Android 6, there has been the ability for enterprises to manage Android devices remotely and securely through a web-based EMM (Enterprise Mobility Management) console.
Android 11 features have been extended to include a DLC (or Device Lock Controller). The device lock controller makes device financing possible to implement and control at scale by creating the ability to lock and unlock the device remotely.
This ensures the user has a seamless experience, out of the box. In conjunction with the carrier or retailer, it is possible for a device to be financed by the consumer at the point of purchase, with the technology ready and enabled for use at first boot and activation.
Therefore, instead of consumers paying full price for a smartphone upfront, or having to settle for a lower spec or less capable device, smartphones are now more affordable for consumers.
Device financing is increasing smartphone affordability
Device financing allows consumers the option to repay the cost of the smartphone over a longer term, normally between 12 – 36 months.
This is where Trustonic comes in.
Trustonic to date is already the leader in device financing and has had a carrier grade solution for over 3 years, with millions of devices financed using the existing Android EMM features along with its patented technology.
Trustonic has already seen great traction in the market with our current deployments. Some operators are reporting a 30% increase in payment adherence as a result of the solution being deployed. In addition, when compared to call center approach, reminding customers to pay, there was a significant improvement in the success rate of over 30% when using the Trustonic solution.
To understand this further and focus on the customer insights and customer appetite for using these kinds of solutions, Trustonic recently carried out consumer research. We talked to over 3000 consumers, in Mexico, South Africa and the UK.
Over 30% of respondents said they would purchase a higher specification device if device financing was available. However, there were differences across the markets, with Mexico and South Africa, where over 50% of respondents said that they would take up the offer for more affordable smartphones via financing.
How Trustonic's device financing solutions works
Trustonic's solution provides a feature-rich Android UI on top of the Android device lock controller, that makes the user experience easy to understand and is respectful during the device financing stages of the smartphone.
The Trustonic solution [branded as the mobile operator, finance house, or retailer] sends reminders to the device. When payments are made on time, the user has full access to all of the smartphone's capabilities.
When a customer is delinquent in making their payment, the Trustonic solution treats the consumer with the utmost respect, and makes getting up to date with payments as easy as possible. The smartphone comes preconfigured with a payment application. The consumer can make a payment directly from the smartphone or call to make a payment to a pre-configured number.
The various stages of payment reminders are shown below.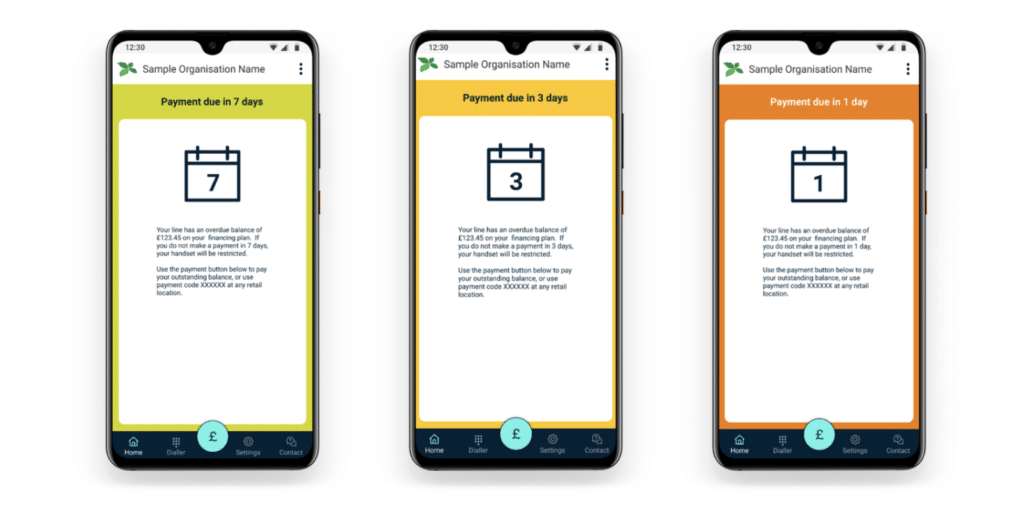 In the event a payment is delinquent, and the phone is locked, the Trustonic solution ensures that the customer can:
Make emergency calls
Make limited phone calls to personal contacts
Make payments on the web or through a phone call
Access whitelisted apps
When the smartphone has been paid in full, the user will see the message below and all the full device functionality is restored and the consumer can use their phones as normal.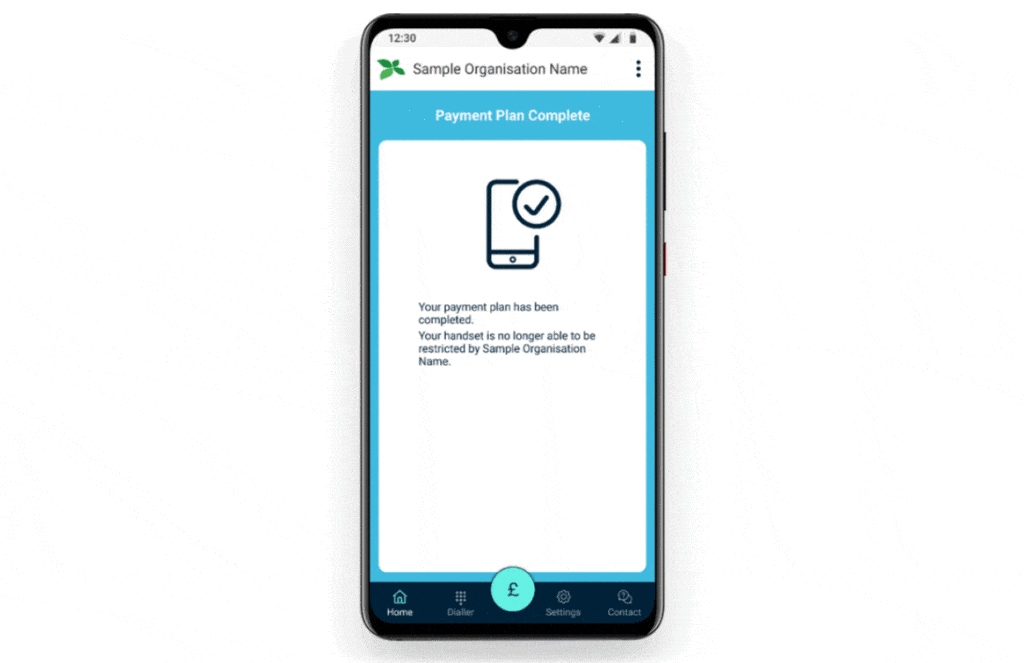 Adopting the Trustonic Mobile Device Financing Solution
Trustonic's mobile device financing solution is available today and ready to integrate into your business. Whether you are a retailer looking to expand your business into a broader market or a carrier ready to finance millions of devices, Trustonic has the right solution for you.
We can scale up to your business as it grows. Trustonic's white-labeled solution allows you to sell more Android 11+ handsets quickly and with the best user experience.
We recognize that the ability to customize the consumer application and customer experience is key.
Our solution operates at local, national, and global needs with 24/7 support, with full customisation and localization options. Our device financing solution is tied together with an easy-to-use web interface that will be common across all regions.
We are also ready to integrate into your existing infrastructure through well-documented web APIs. Whether you want to import 500K IMEIs, generate easy-to-read reports or integrate them into your billing and other infrastructure, we have the systems and support processes to make this happen.
We also understand the mobile ecosystem, recognizing the importance of working in partnership, not only with carriers and retailers but with the OEMs and handset manufacturers too. Our business and engineering teams are veterans in the mobile business and have built up their experience delivering carrier-grade solutions. For OEMs and handset manufacturers, we work collaboratively with you alongside the carriers to customize the device financing experience per carrier requirements.
For handset manufacturers who are not ready to engage, but may do so in the future, Trustonic has a validation program to ensure your handset is compliant with Google requirements. Trustonic can provide the handset manufacturer with a test environment to test various models. This can be done in privacy and at the pace of the handset manufacturer.
We are rewriting the rules on credit and working to get access to smartphones and digital services for those who needs it the most! Get in touch today.
References
The Technology That's Making a Difference in the Developing World
How important is your smartphone in your life?
Accelerating affordable smartphone ownership in emerging markets
Will new technology in developing countries be a help or a hindrance?
How many smartphones are in the world?
Smartphone ownership is growing rapidly around the world, but not always equally
Mobile devices are too expensive for billions of people — and it's keeping them offline