Securing devices is hard, Trustonic makes it easy.
TSP™ is a complete device security solution, delivering a proven, scalable set of services. It enables an OEM to meet their device security goals and to comply with industry mandates.
TSP delivers Kinibi®, a Trusted Execution Environment (TEE), which is a hardware-isolated environment, running within the main processor on a device. It is a secure operating system which enables Trusted Applications (TAs) to run on it.
TSP is unique, in that it is open, enabling not only the device manufacturer to secure their apps, but also provides the same level of protection to third-party app developers.
By securing your services and apps with TSP, you can improve the user experience whilst providing better security, enabling simpler, richer and faster services to be deployed.
Trustonic has worked for over 5 years with leading OEMs to embed TSP into their devices. To date, it has been embedded into over 1.5 billion devices and is in use by 9 of the top 10 Android smartphone manufacturers.
In addition to delivering the secure operating system, TSP also embeds each device with a Trusted Identity (a Root of Trust), enabling the identity of the device to be cryptographically proven and validated throughout its life. In addition, Trustonic Digital Holograms™ (download datasheet here) enable each device stage in a multi-step manufacturing process to be attested, providing protection against fraud in the supply chain.
TSP is not only used to deliver security on smartphones and higher-end devices using application level processors but also on micro-controllers used in IoT and other low-end devices. Kinibi-M is a micro-TEE designed to deliver security services on these low-end resources- and memory-constrained devices.
For more information on how Trustonic protects the IoT, see here.

Trustonic's Trusted Execution Environment
Is secured by hardware
Delivers devices with a Trusted identity (a Root of Trust)
Secures sensitive code execution and storage
Secures the installation of third party services after device deployment
Secures interaction between the user and the underlying services (touchscreen, fingerprint sensor…)
Interfaces with Secure Elements where relevant
Is proven and embedded into over 1.5 billion devices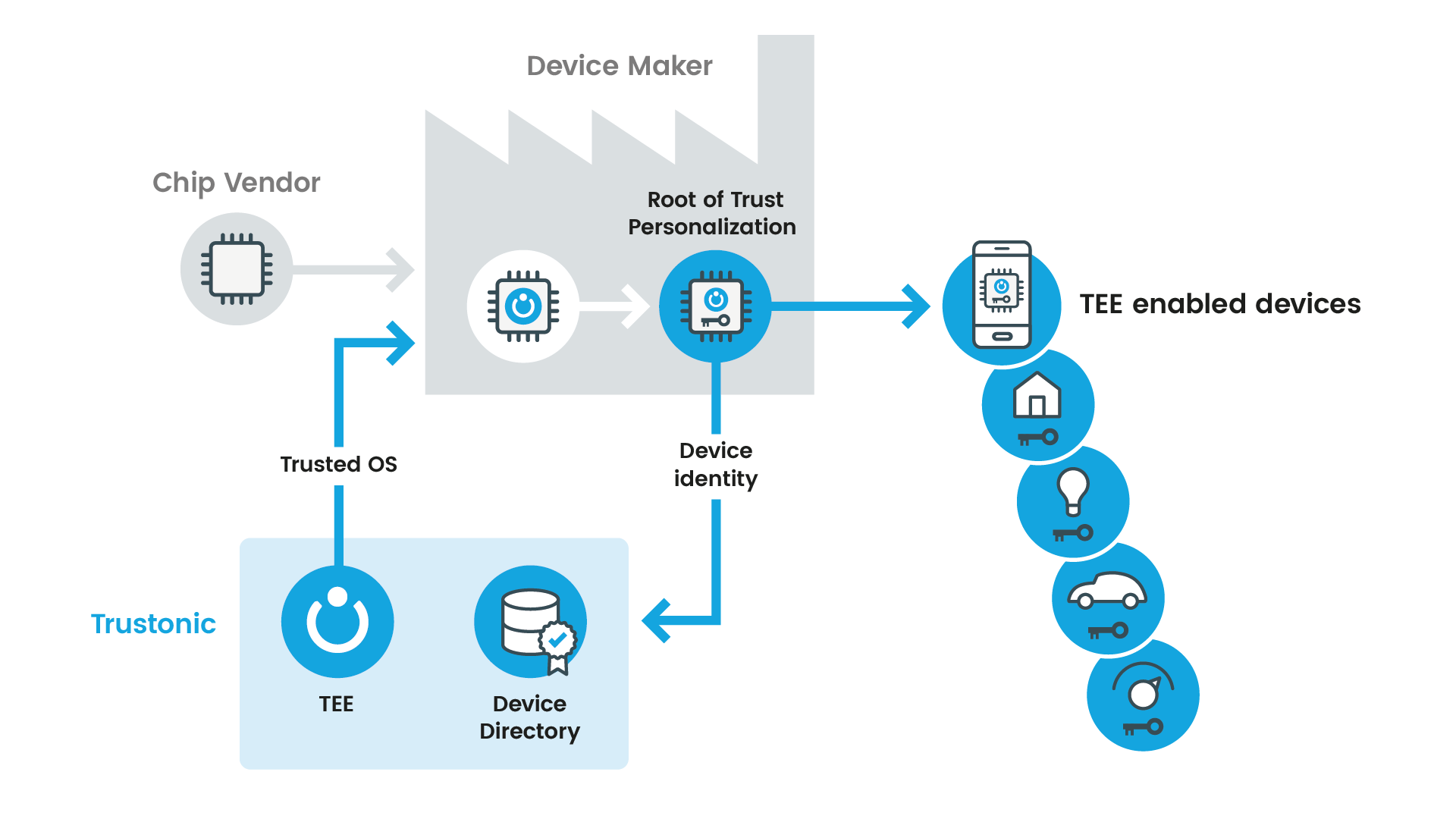 What makes TSP unique?
Proven technology, deployed into over 100 factories globally
Enables third-party apps to benefit from the secure platform, using a standards-based, simple-to-use SDK
GlobalPlatform- and Common Criteria-certified
Supports the use of Digital Holograms™, delivering full device lifecycle management and attestation capabilities
Provides a Driver Development Kit, enabling the simple development of drivers for services such as biometrics and Trusted User Interface
Integration experts available locally to assist in deployments
Trustonic's TEE is certified against GlobalPlatform, FIPS 140-2 and Common Criteria standards.
Click here to contact Trustonic to learn how you can start working with TSP